Creative ways to present your research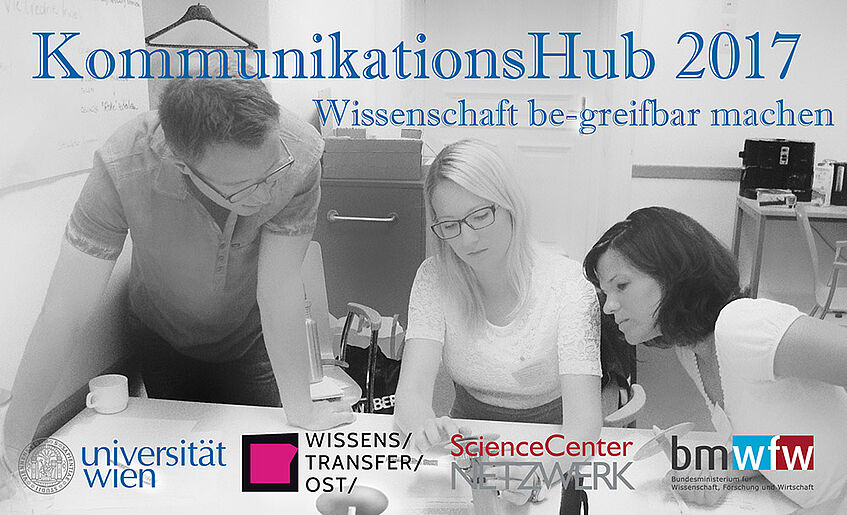 Communicating your research is important - at events such as the Lange Nacht der Forschung or the KinderUni, open days and conferences. If you are looking for creative ways to step up your classic presentations, the CommunicationsHub is the right place to start!
In our workshop students and young researchers learn new ways of communicating science and have the opportunity to plan and create ways to present and promote their own research projects. Interdisciplinary teams of 2-4 people can apply to receive professional support in the implementation of their project ideas. The Hub is aimed at students and graduates of all subjects and disciplines.
What you should bring along:
· Enthusiasm for science and research
· Interest in science communication
· Availability on the workshop dates (see below)
What we offer:
· Introduction to science communication, 'touchable' science, hands-on didactics, research learning
· Accompaniment and support with the implementation of your ideas
· Feedback and discussion with an expert audience
--- application deadline passed --- next call: WS 2017/18

CommunicationsHub 2017:
The CommunicationsHub starts in March and ends in June 2017. After a kick-off meeting, the teams work on their projects with the help of experts in science communication. In June 2017, the results will be presented to an expert audience. The participation for the selected teams is free!
Information and application:
You are curious, but still looking for inspiration or exciting team colleagues? Come to our 'Infonachmittag' on February 22nd, 2017. Get to know the team of the workshop, try different methods in the ideas bazaar and meet like-minded people! Please regsiter until February 20th via email to unterleitner@science-center-net.at. You know what you want and you already have your team? Very good! Send your application as interdisciplinary team (2-4 persons) with a short description of your idea (max. 3 pages) together with short CVs of all team members. Send your documents via email to unterleitner@science-center-net.at by March 1st, 2017. The teams who will be able to participate in the CommunicationsHub 2017 will be picked on March 6th, 2017.


Workshop dates:
Infonachmittag: 22. Februar 2017 (Anmeldung bis 20. Februar)
Bewerbung der interdisziplinären Teams bis zum 1. März 2017
Seminar 1 – Kick-Off: 21. März 2017
Seminar 2 – Zwischenbilanz: 26. April 2017
Seminar 3 – Peer Review: 7. Juni 2017
Praxistest (Ende Juni 2017, genauer Termin wird noch bekannt gegeben)