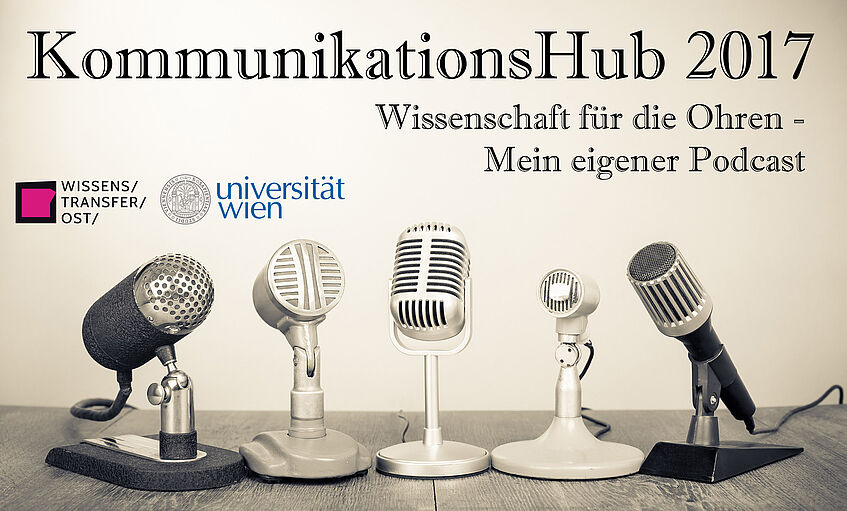 The Communication Hub: Science for the ears - my own podcast is our hub for the implementation of podcasts and audio-related projects. We offer students and young scientists the opportunity to develop their own podcast projects in close cooperation with an experienced expert and use their podcast as a means of scientific communication.
What you should bring:
• Affinity to audio content
• Interest in knowledge transfer and scientific communication
• Curiosity and motivation to try something new
What we offer:
• Introduction to scientific communication using podcasts
• Content and technical support and support in the development and implementation
• Feedback on audio productions of long-standing science "podcasters"
Communication Hub 2017:
The Communication Hub will start in April 2017 and end in June 2017. Following a kick-off meeting, the teams will work on their podcast projects under the guidance of our podcast experts. At the end of June, the projects will be presented at a final presentation.
Hub meetings (your presence is mandatory):
1. kick-off meeting: April 6, 2017
2. Production meeting (team updates): June 7, 2017
3. Final presentation: June 30, 2017
Application and selection procedure:
Please send a short description of your research, which you will produce your podcast on (up to 1/2 page) together with short CVs of your team until March 22, 2017 to daniel.messner@univie.ac.at. At the end of March max. 2-3 teams will be selected to participate in the hub.